Kevin Irwin's clay squirrels are nut hoarders!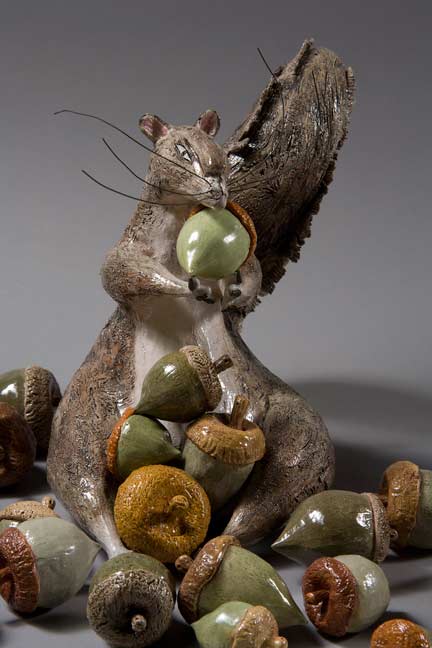 Moss Rock Festival's
ARTIST SPOTLIGHT BLOG SERIES:
Kevin Irwin, Clay & Glass
What artists have influenced you?
Gaudi was my first big influence when young and the ancient Egyptian art I saw at the Met. I always did art as far back as I can remember,  painting rocks, drawing in the sand, making candles, wood burning etc.  anything I could get my hands on.  I loved coloring books!
What exposure to art as a child influenced your career path?
I was not given much exposure to art at an early age but as a teenager I discovered work from other countries and went wild, like Haitian flags,  Mexican ceramic figures, African textiles, beads and wooden sculptures, Cuban paintings.
As an artist, we know you create. But what style of work do you like to collect? Do you have a favorite piece that you must glance at on a daily basis?
I collect folk art, outsider art, ethnic art, ancient and old beads from Africa and Europe and ceramics of all kinds.  Almost everything in my house is handmade other than the things I inherited from my grandmothers! so it would be hard to have a favorite piece, I love using and looking at everything.
What kind of work will you be exhibiting for sale at Moss Rock Festival and how was it inspired by nature?
For Moss Rock I will have bracelets that look like glass worn down from the ocean and collected in sand,  but they are my own  hand made glass beads fashioned into protective eye beads. I have a fascination with good luck symbols.  Glass earrings that are trumpet flowers,  ceramic platters that have animal and flower motifs, and cache pots with flowers carved on them.
How can people find out more about you?
My web site is – www.kevinirwinstudio.com
Find out more about Kevin, plus see more of her artwork:  Click here.